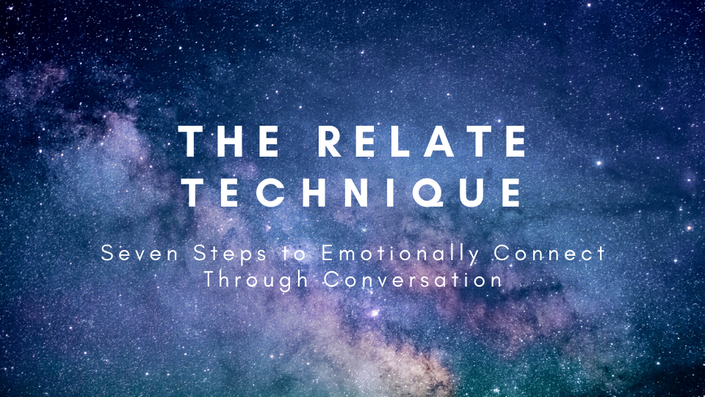 The RELATE Technique™
Seven Steps to Emotionally Connect Through Conversation
Do you ever struggle to create a quality conversation with another person?
Would you like to develop an emotional connection with someone important to you?
It could be with your friend, date, spouse, child, boss, or client.
It can be challenging to find the right words to say, the questions to ask, the way to demonstrate that you get them.
Introducing the RELATE Technique.
What is the RELATE technique™?
Seven step process for listening to another person so that you can genuinely understand the person well.
Develops an unbelievable emotional connection between you and another person.
The RELATE Technique™ will help you:
make meaningful conversation when you meet someone new.
understand and validate someone's feelings.
feel closer and strengthen your relationship.
help someone solve their problem.
discover someone's past experiences, beliefs, and values.
resolve a conflict by understanding your partner's perspective.
negotiate and influence another person to see your perspective.
What is included in this course?
20 Video lessons. Each step of the RELATE technique™ is explained with clear instructions, insights and examples. Each video packs a powerful concept into five minutes or less. You can develop your skills with minimal investment of attention over time.
An easy-to-review downloadable card of the RELATE technique™ you can keep in your wallet to remind you of the 7 steps wherever you go.
Case studies. Learn how you can apply the RELATE technique™ to challenging situations and conversations.
Exercises. Get interesting conversation starters to practice the technique.
Challenges. Try creative ideas for how you can put the technique into practice in a comfortable, no-risk environment.

Access streaming video across all your devices. You can watch or listen to the course at your own pace from your phone, tablet or computer.

LIFETIME ACCESS to the course. Once you purchase the course, it is yours to watch and review for the lifetime of the course. I fully expect the course to have a long life! Review the course anytime and take advantage of future updates to the course.
100% MONEY-BACK GUARANTEE. If you are not satisfied with the course, for any reason, let me know within the first 30 days and I will refund your money. It's as simple as that.
Your Instructor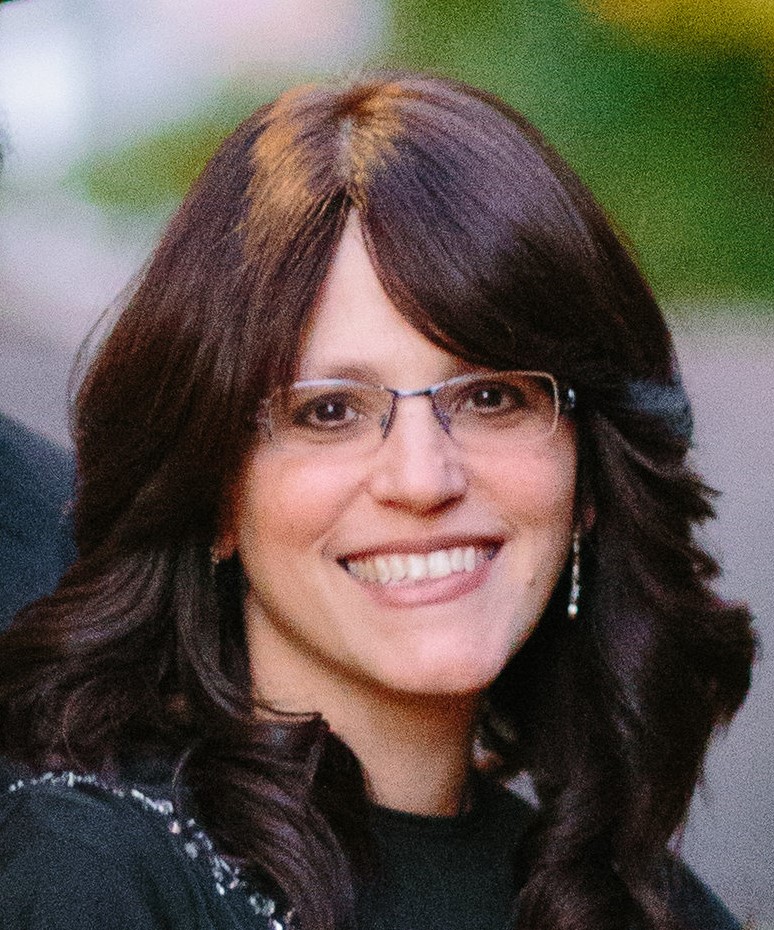 Hi! I'm Dr. Chani Maybruch, a social psychologist and relationship coach. I specialize in helping people succeed in dating and create amazing marriages. In this class, you will learn strategies and tools, based on my twenty years of coaching, to help you break through the barriers to developing your ideal relationship.
Frequently Asked Questions
When can I start the course?
You are welcome to start the moment you enroll in the course. Enjoy access to all parts of the course immediately.
How long do I have access to the course?
How does lifetime access sound? You will have full-time access to the course as long as it is offered online... and I fully expect it to have a long and healthy life.
What if I am unhappy with the course?
I would never want you to be unhappy! If you are unsatisfied with your purchase, contact me in the first 30 days and I will give you a full refund.
Hear from People Who Changed Their Lives Using
The RELATE Technique™
I used to avoid expressing my feelings because I didn't feel confident about having a deep conversation. Now that I learned how to have a deep conversation, I am amazed by how comfortable I am with bringing up issues in my relationships. My relationships are so much better than before. I feel more in control and I have less anxiety. - Lea M.
The RELATE Technique™ gave me such a clear and practical way to focus in a conversation. I am a therapist, yet I sometimes struggled to emotionally connect in my personal relationships. This technique really helped me connect on dates. Now I am married and I use these skills all the time with my spouse. - Risa S.
For the past three years, I tried using dating card games to deepen my conversations on a date. It never worked. Now I know why! LOL! I was not listening in the right way. After over ten years of dating, I dreaded going out with someone new. Now I am engaged to an amazing guy. Thank you so much! - Yaffi S.
More about the RELATE technique™
Integrates the best research-based strategies for active listening, conflict management and negotiation - all of which lead you to understand a person better and emotionally connect.
R.E.L.A.T.E. is an acronym to make it easier to remember the seven steps of the technique.
The name R.E.L.A.T.E. emphasizes the goal of the technique: relate to the person you are listening to.
I created the R.E.L.A.T.E. technique™ in 2012 to help couples in my practice understand each other better, feel closer to one another, and manage conflict.
It has helped hundreds of people in many different settings and with many types of relationships.
You make or break your relationships by the quality of your conversations.
Your relationships are your most treasured assets.
People who have satisfying relationships are happier, healthier, and more successful.
Learn the RELATE Technique™ to feel in control and master your conversations to develop rich relationships!
Are You Still Not Sure?
Remember, you'll get lifetime access so you can grow at your own pace.
There is also a 100% money-back guarantee if you are not completely satisfied within 30 days.
Join me in this course to discover how you can build and strengthen your relationships with the RELATE Technique™!
Learn about fascinating real stories of people just like you who grew tremendously from developing these skills!
I can't wait for you to experience the emotional connection and joy that comes from trying the technique out for yourself!